The DVC started by paying a courtesy call to the Office of the Principal where he was received by Prof. Joshua Ogendo, the Principal NTCC. He then visited the Faculties of Health Sciences and Commerce; the only two faculties currently being hosted at NTCC.
Prof. Aduda then proceeded to visit all sections at the NTCC, among them: Office of the Acting Registrar, Security, Dean of Students, Finance, Library and Egerton Radio studios. He also toured the Kokeb facility which is being renovated at the moment.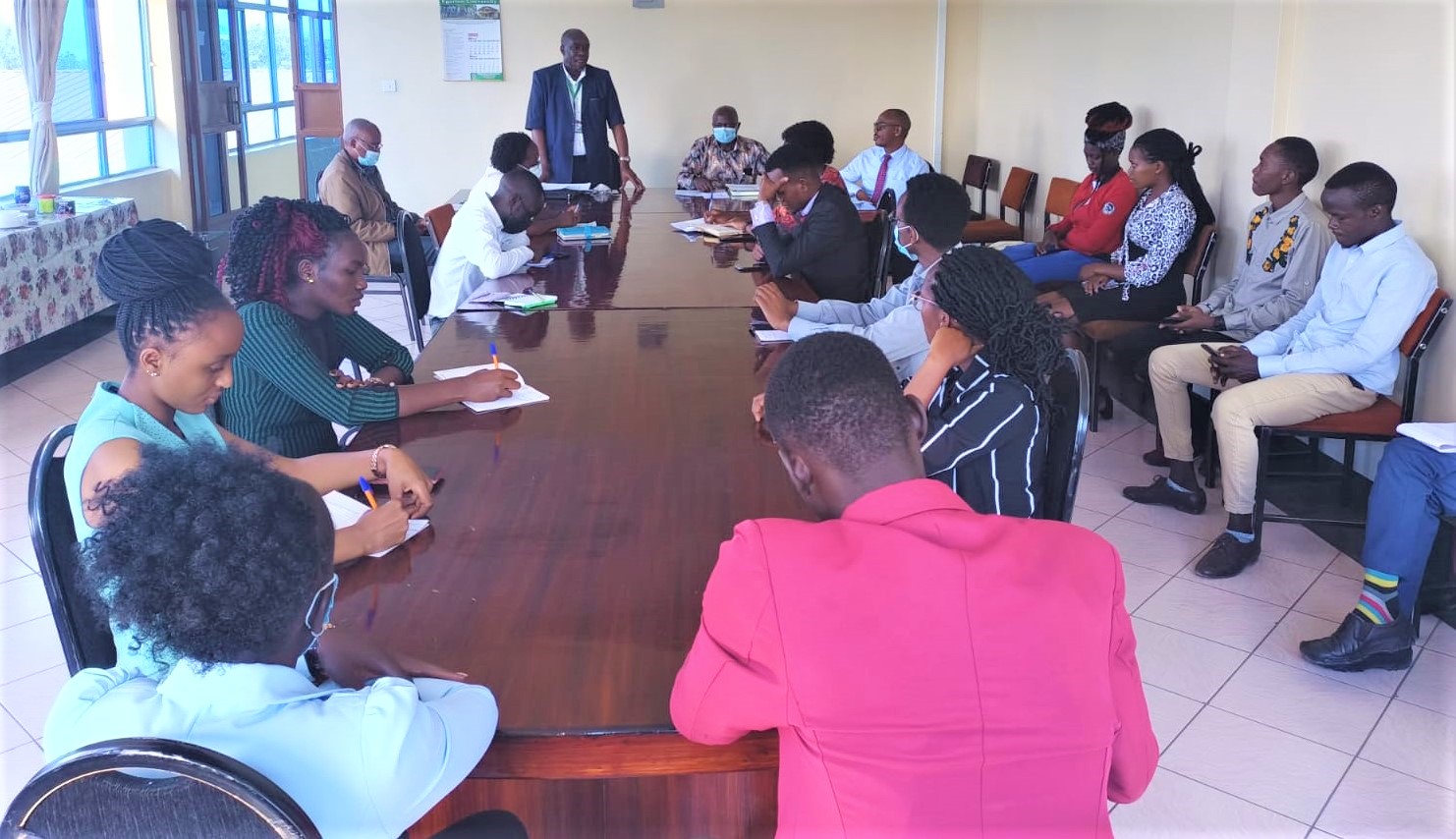 Egerton DVC-Academic Affairs Prof. Bernard Aduda at the meeting with Egerton Radio interns. He urged them to observe media ethics in their work and be good citizens. PHOTO: Bethel Vugutsa.
The DVC also had a meeting with 16 young journalists attached to the Egerton Radio who include 11 interns seconded to the station by the Media Council of Kenya (MCK) for a three-month mentorship programme.
During the meeting, Prof. Aduda urged the journalists to maximize their stay at the radio by acquiring enough skills to improve their chances of transcending to higher opportunities.
"Skills are more important in the job market than (even) grades," said Prof. Aduda, a decorated scholar of Physics with a specialization in Materials Science. He stressed on the importance of accountability asking the journalists to always be well groomed, keep time, and practice professionalism and objectivity.
"I'm not a journalist but there are codes that guides your profession, one of them being objectivity. Exercise this at all times and be good citizens."
NTCC's Principal Prof. Joshua Ogendo encouraged the interns to embrace the opportunity and make an impact. He also encouraged them to come back to Egerton University to pursue further studies.